I started writing this post for
Indiblogger's
"Great Indian Litterbug"
in association with Times of India 'The Great Indian Litterbug' campaign, exclusively on this post. Unfortunately, I realized that on my Indiblogger's account I can only register for my blog on www.vishalbheeroo.wordpress.com and not for this one. Here's re-blogging.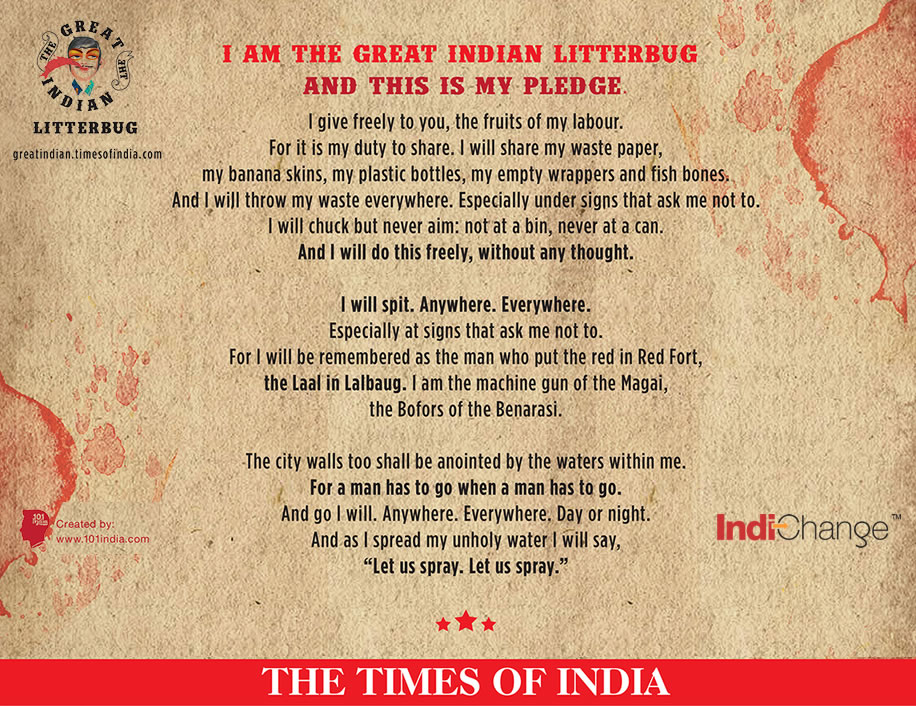 Image credit: https://www.indiblogger.in/happyhours/great-indian-litterbug/
Disclaimer: It's a post written in humor, designed to tick your funny bones to think. Any reference to any human being, living or dead is regretted but anyone taking to offense to it shall not receive an apology. Let's learn to laugh at ourselves before feeling offended and purify the self and environment.
A Spaceship called, The Great Indian Litterbug:
Lights, Camera, Action. The TV crew and anchors, news editors and journalists, train your third eye. Lovelies!! I mean your toting gun for it's a feast that you can't dare to miss. Never Ever Ever Say No coz our Arnab is wearing blinkers, right now. Swach Bharat Abhiyaan. Like Armadegon, the huge India space ship is descending on planet earth. See, how monstrous, super mighty and powerful this mammoth orbit, designed by fellas homo-sapiens descending on earth to wreck destruction.
The super shiny and huge object crafted with the hard labor of fellow Indians is called, The Great Indian Litterbug. How come we couldn't notice this huge power, zillion times mighty than our missiles, rocket and war tanks? US President, Barack Obama on a visiting spree would be mightily impressed with our self-designed power of human destruction, our own, 'The Great Indian Litterbug.' So what, The Taj Mahal is not on his plans?
The designers aren't faulty robots but the doing of the human mass. Peeing on our walls in every nook-and-corner of the country, garbage thrown from our luxurious worth crores sky-scrapers, Bisleri bottle flung at traffic signals as our show-offs BMW zoom ahead, cigarette butts, plastic bags, newspaper, used items stacked to adorn our society. See, we need to give a fresh aesthetic touch to our surroundings. Stacks and stacks of them piled and mounted on each other like the lego game, crafted intelligently and with perfumes, flowing from our urinal oops orgasmic pleasure, escalating like bricks, metals and gadgets, making us proud of our latest technology to show the world.
See, Mr Barack Obama, it's a must to pay a visit and honor our mighty creation, The Great Indian Litterbug' and shake hands with the creators of such objects of great value. The 'Great Indian Litterbug' space ship doesn't make us proud when we see the Indians that you've adopted for ages and call themselves Americans, your own tribe and fellas foreigners love to visit us with a camera and shoot our to-be-famous 'The Great Indian Litterbug' with aha expressions, 'WoW! This is real India.'
I tell you: We get so irritated with such 'Mehmaan' who is hell-bent in giving honor to our mighty space ship by making it global. You know, Obama Sir! We know very much how to do 'Mehmaan Nawazi'. I just wanna give a pound of my fist with the 'Real India' definition and honor you give to our unique space ship by posting on You Tube, as if it's some sex orgy or masturbation they are doing. Do you guys come here to see our mighty powerful, 'The Great Indian Litterbug'? See! It's no Red Fort, Taj Mahal and Lal Kila or Gateway of India ani Marine Drive.
Dear fellow Indians, wishing you a Happy Republic Day and let's be the change-Do Not Litter-Is it too much to ask? Make Love not wage war against our great India.
Jai Hind
Vishal