Our dear, Barack Obama, must be thanking his stars! After the American administration lost the visa stamp for years and finally recovering it post May this year, Obama 'Yes! We Can! must be borrowing a cue from India how to get the US Congress win the next election. A plausible scenario! You bet!
Image downloaded on Google India

At a time when the US economy is in the lurch, Modi-nomics promises to save Yankees from the looming disaster. It's like Amitabh Bachchan telling the US immigration officer in English Vinglish, 'I am here to spend some dollars to grow the US economy. You don't want it!"
A lil' bit on Gyaan on the American soil on the great American Dream! Soon, Obama will start singing, 'Ab ache Din Ayega America Mein, brushing up his Hindi. Or, will he say, 'Ab ke Baar Modi Sarkar. See, Modi is going truly global as New York is dazzled to his charm, singing 'NaMo, NaMo'. Madison Square will enter the Guiness World Book Record as NaMo stood tall, witnessing the hero of the day, delivering his monologue. Now, who says, India can never make it to the Oscar? Of course, we can. Yes, We Can. Modi has already made it to the Oscar as India creates history in a non-film award for acting.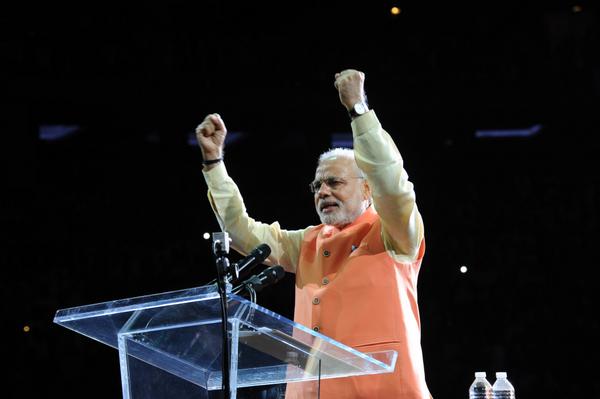 Pic credit:

PMO India (@PMOIndia) | Twitter
Now, can our NRIs left behind as they stormed the Madison Square to get some incentive from Modi, proudly displaying their American-Indian flags to the great delight of TV crew. What a proud moment for them, one is tempted to ask. After all, they have just been credited as the crew who made the NaMo film, 'An Ache Din Aa Hee Gaye' a roaring success. Now, most of them must be booking their ticket to reach Mars at Rs 7 per km, cheaper than rickshaw rate in Gujarat at Rs 10 per km. What say? Cheaper than Tomato and Mc Donald burger. They better re-settle in Mars and leave behind their American dream. They can sell hot dogs on planet Mars cheaper and make a killing. If they are not satisfied, it's time to come back to Desh....Mera Bharat Mahaan..see India needs them as the savior. Why would they not come back? Arnab must be racking his brain. After all, India wants to know!
Our dear NRI shouting Inquilaab must be leaving Barack Obama in a state of confusion on the next revolution. Is it for him or the president-in-waiting Hillary Clinton? After all, NRI has an uphill task: send American tourists to India and freebies, no visa on arrival. Wait, I got a better option. What if...we do some barter! Let's all of us shift to US and let our American friends make India their home. That way, we can take upon ourselves to save their economy, the spend thrift that we are. Chalo Amreeka, Saathiyon! Make New York, Madison Square our home and start tearing each other's off in Obama's land. See, we can vote for Obama's part, US Congress, and keep them in Government for another five years.
Image Credit: Google India

We shall sing, 'Pseudo-secularism.' No! We shall be boys and girls, better than our ABDC counterparts. Nopes, we will not settle in US to learn ABDC the wrong way..it's American Born Desi Confused. We shall drink our Coca Cola to heavenly bliss. We shall sing and dance, 'Jeeo Kurta Phar ke', tearing the shirt of journalists who question us on why we support Modi. We will be the new Modi Bhakts assaulting not just Rajdeep Sardesai but Americans journalists telling us to behave ourselves. After all, we are the torch bearers of 'silly' Hindutvaa and who has the balls to question us!
We, Indians, are good in doing jhol. No prize for guessing here! We shall earn in dollar, buy in rupee and make our currency the new dollar, selling our prized assets, our rupee to dollar babus to make a killing on the market. Better than that, our Indian rupee will replace the Dollar groom and bahus of the world. Modi-nomics has just altered market dynamics in US and high time for MNCs to pack their bags and settle in India.
After all, who needs motivational Gurus like Shiv Khera, Robin Sharma when we have apna desi Prime Minister, Narendra Modi telling us one thing or two about, determination and how to make things work out for us? Perhaps, our own Congress man, Mani Shankar Aiyyar must book his air ticket to New York city and start a tea stall, 'Special Modi Chai.'