The People's President and one of the most loved scientist was buried on Thursday, July 30 in his home town in Rameswaram. I refuse to say RIP for I know people like Dr Kalam never dies and his soul remains eternal. He shaped millions of ignited minds and taught them how to dream to achieve greatness in life.
Many of us were lucky to be born and live in an era that witnessed Dr Kalam as one of the greatest scientist, scholar and President of India. I call him, Yugpurush for people like him comes once in a life time. What role did Dr Kalam played in my life? It's a tough question because like millions of his admirers, I never had the good fortune to meet the man. His term as President of India holds significance and is special for me because it was around the same time, I read for my degree at Fergusson College which I attended from 2003 to 2006 and moved to Mumbai University where I stayed till 2008. I remember buying India 2020-A Vision for the New Millenium- on the pavement in 2005 since I was curious to read the thoughts of President Kalam. I have read Wings of Fire, Turning Points and Igniting Young Minds.
Dr Kalam shaped my belief on how to remain simple in life and to never shy away from learning as well as learning to smile every single day, the first thing someone should do in the morning. What touched me is that despite being the Head of State, he would always warm up to people and not show the slightest arrogance. This is one quality that many of our political leaders need to learn from Dr Kalam. I remember before being sworn as scientist, India Today did a coverage on him and was amazed to see the picture of his modest room, with a small cot and a wooden table.
We live in a consumer society where we run after money but look at Dr Kalam, who is an ocean of intelligence and has commanded wealth of respect. Yet, he choose to lead a simple life. The man continue to inspire people even during his death. His nephew shared to NDTV how Dr Kalam would always ask him what is the new thing that he does everyday. This is very important as human beings where we crib about the slightest things in life but we forget that we always need to be focussed and do a new thing every single day to be productive. I have learned from him how important it is to be a good human being. He deserves respect for achieving so much despite coming from such a humble background and it is something that he never forgot despite his success as a nuclear scientist and President.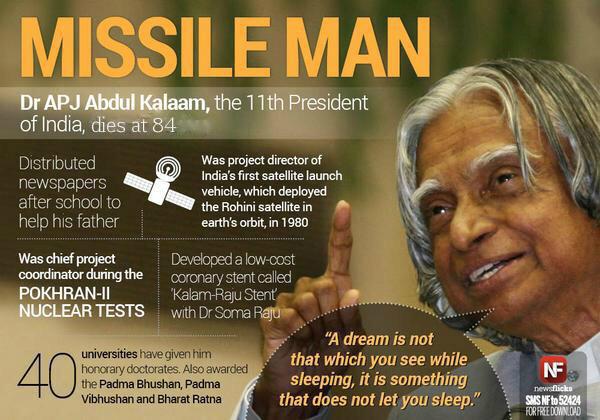 He had a human touch that would heal people and the ever-smiling man would relate to his audience with ease. Even during his last days, Dr Kalam not only united people-the vast sea of crowd who traveled miles to pay their last respect to him-and he delivered his last lecture on stage. A dedicated friend, teacher, philosopher and guide. One should always be fired by passion and give the best in work, investing self. Excuses such as mood is down and feeling ill, is as good an excuse to skip our work but it never does us any good as human beings. Work is worship.
We don't realize how such excuses affect our soul, spiritual leaning and makes us ill inside the body. It's better to stay engaged and committed rather than indulge in mindless gossips about other people.
Dr Kalam would always give people good vibes through his presence and we should do the same in spreading positive energy. There are so many things one could learn from the People's President and his thoughts are eternal. I feel that he has left a void in our lives and there are so much that he could have done in uplifting people. Even in his death, Dr Kalam has united India and the world.
He shall always be an integral part of our lives and will be present in our heart. It was for the first time that India had such a deserved person as President, timeless, endearing and with a great heart.
I shall leave you with a story shared by a friend to me in 2008, something which is unconfirmed but interesting. We were studying at Mumbai University Fort, Rajabhai Tower and the library closed at 6 p.m. We walked towards Churchgate when my friend told me that once Dr Kalam parents found a girl for him and they went to the former's place for tea. They told Dr Kalam to come and see the girl. Now, in those days, there was no handset and there was no way a young Dr Kalam could be contacted. They waited for him but he never came.
The next time, Dr Kalam visited home, his parents asked him why he never came and said that he forgot. He also told his parents that he is married to his job. Now, we all know that Dr Kalam was a bachelor and made his job his life and passion. NDTV paid a tribute to Dr Kalam by airing an interview done in 2007 when he left as President and he faced young students. It's a must-watch interview and how he reached out to students with jokes, winning their heart by asking them a simple question, 'How they would like to be remembered.'
Dr Kalam, I would like to be remembered as a good human being.
People President,
you ignited young minds and taught to always dream big in life.
Your soul is eternal in guiding the nation.
India 2020 may be a dream for some,
but we know we can fulfill your wishes.
You never judged anyone nor discriminated on racial, class, caste or sex basis.
Your thoughts gave us wings of fire to fly and soar in the sky.
You would always be watching on us and smile in paradise at our success.
I bow to you, Dr Abdul Kalam for walking the earth and making a difference to our lives.
The body may have been buried but your soul reverberates forever.
You've never gone away but will remain forever in us,
spreading love and kindness.
Thousand salutes are not enough to describe you,
Grand man.
I am leaving you with few quotes of Dr Abdul Kalam
Images courtesy: Google India

With Love and respect
Vishal