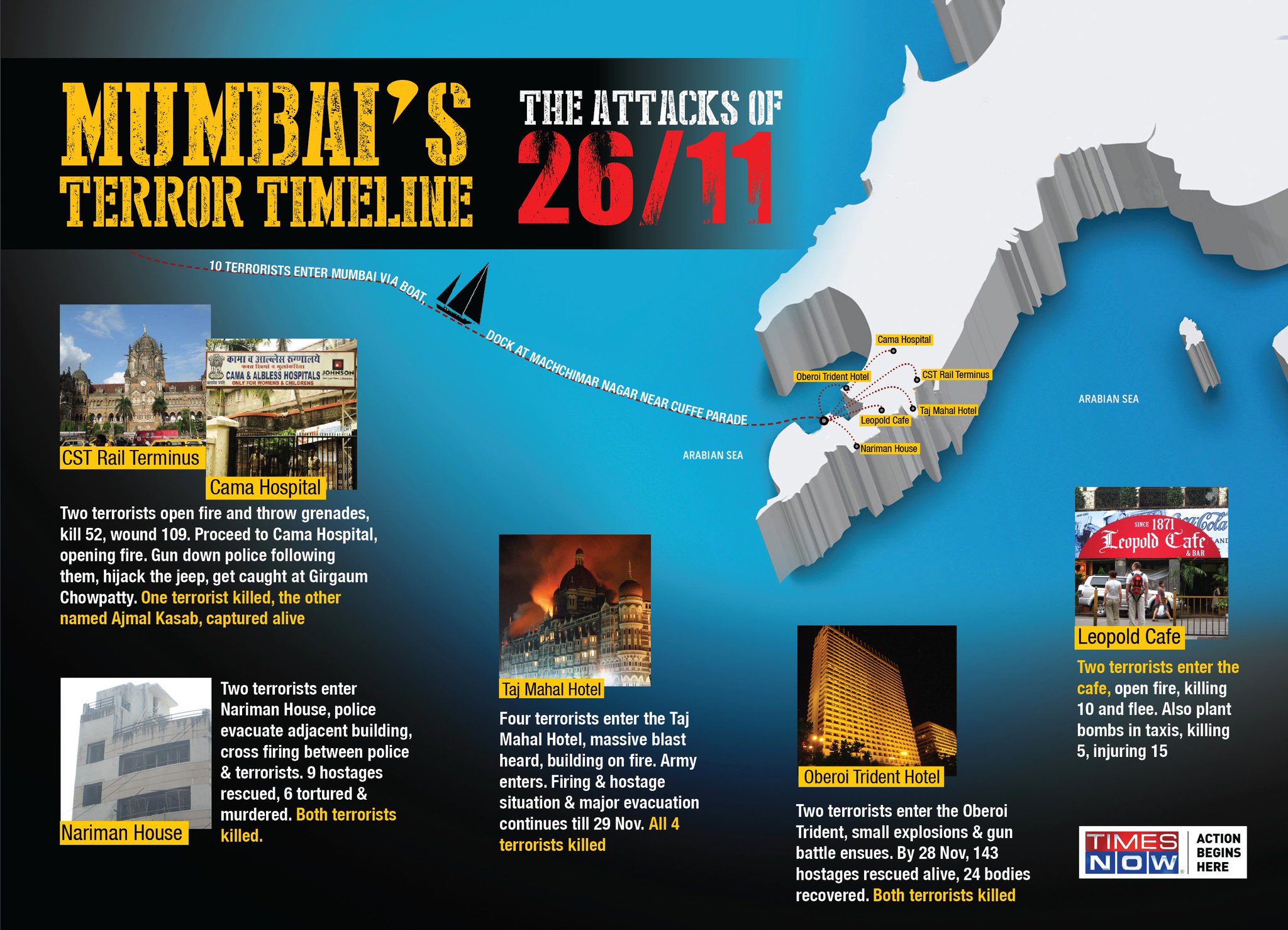 Image credit: Times Now/Twitter

It was the day that changed our lives forever. Mumbai would never be the same again. The day that changed it all, 26/11. We knew how wounds would, perhaps, never heal in maximum city. It was a grim reminder that every city has its limits and life abruptly stopped on that day.
It was a macabre day where lives were taken at leisure by merchant of death on the streets, restaurants, railway station and Taj Hotel. It pinched the heart to see places you frequented almost everyday was the prey of terrorists. It's unimaginable what happened in Mumbai. How terrorists entered India so easily in boats? A clear case of carelessness where security zones were not checked.
It's been seven years since mayhem struck in Mumbai and a hotel was hijacked by terrorists. It still run deep in our nerves how people were ruthlessly killed in the city. It still makes me angry. How I wish we could live without this terror attack!
Lives that has no price,
blood everywhere,
reminds us of hatred for humanity.
There is only one emotion, love,
that maketh us conquer hatred.
We may have moved on and picked our thread,
the past shall not be buried.
It reminds us of the blood shed.
I can imagine desperate cry of agony and faces of people who would pray to be saved from the clutch of death. Children losing parents and mothers losing their children. Sometimes, I wonder what leads to so much hatred in the world and what has the world done to deserve such ruthless act? It was an attack on the soul of the city and the sacrifice of the army, police and NCG who didn't bother about their lives to restore the city to normalcy and rescuing people. One witnessed how people came together, waving to soldiers and distributing water to them. In moments of distrust where life in the city was brought to a halt, one can see positivity in action. It was all a question of trust. The people putting their implicit faith in their heroes.
This day, 26/11 remains entrenched in our memory. We cannot say that we have moved on for we know certain things never do. In a city where we celebrate life, this attack took away a bit of ourselves and a slice of joy from our lives. We would all feel the flame missing in our lives, somewhere, despite kneeling and holding a beautifully lit candle in the palm of our hand. It's really sad how 7 years later, everyone has forgotten about the Mumbai terror attack.
The attack dawned upon me that we need to cherish every single moment in life since there is no guarantee about life. Spread cheers and light the heart of a stranger, bring a smile on faces, do not spoil our relationships for life is precious. Make the most of every single moment in life.
I take a bow to the victims, soldiers and police not just in Mumbai attack but in places like Paris, Aghanistan, Beirut and regions who are the prey of terror attack every single day.